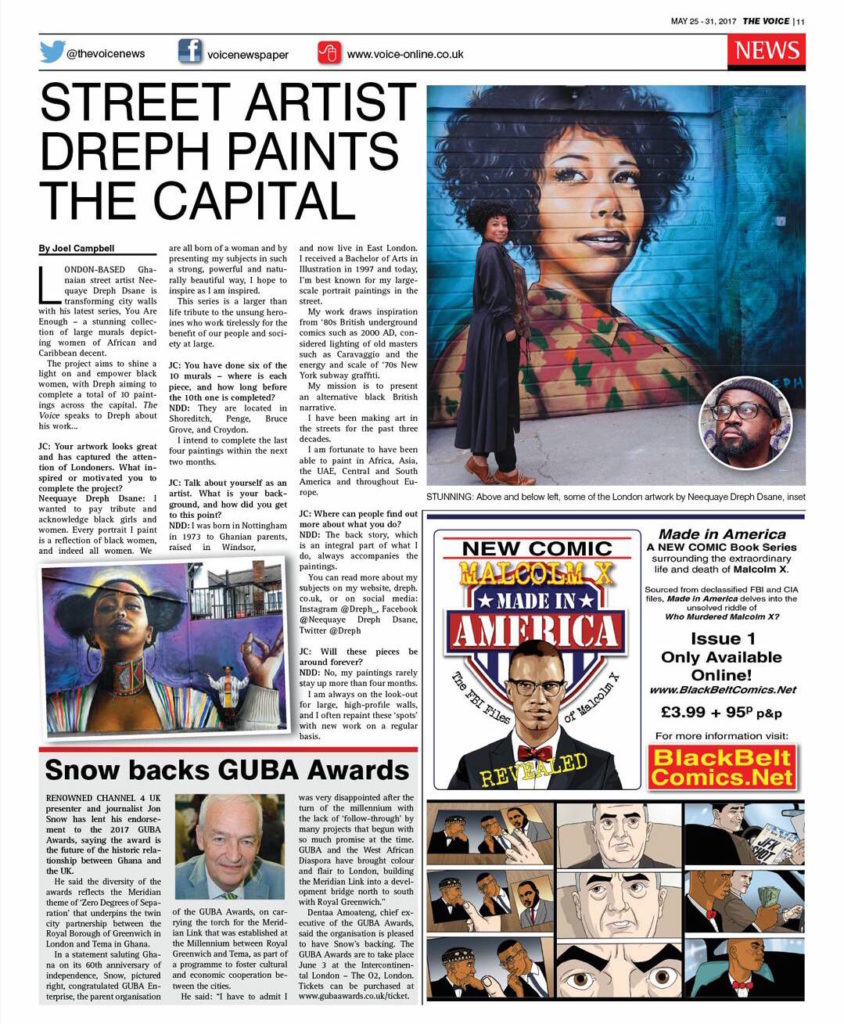 The Voice
LONDON-BASED Ghanaian street artist Neequaye 'Dreph' Dsane is transforming city walls with his latest series, You Are Enough – a stunning collection of large murals depicting women of African and Caribbean decent.
The project aims to shine a light on and empower black women, with Dreph aiming to complete a total of 10 paintings across the capital. The Voice speaks to Dreph about his work…
INSPIRATIONAL: Artist Dreph
Q: Your artwork looks great and has captured the attention of Londoners. What inspired or motivated you to complete the project?
A: I wanted to pay tribute and acknowledge black girls and women. Every portrait I paint is a reflection of black women, and indeed all women. We are all born of a woman and by presenting my subjects in such a strong, powerful and naturally beautiful way, I hope to inspire as I am inspired. This series is a larger than life tribute to the unsung heroines who work tirelessly for the benefit of our people and society at large.
Q: You have done six of the 10 murals – where is each piece, and how long before the 10th one is completed?
A: They are located in Shoreditch, Penge, Bruce Grove, and Croydon. I intend to complete the last four paintings within the next two months.
Q: Talk about yourself as an artist. What is your background and how did you get to this point?
A: I was born in Nottingham in 1973 to Ghanian parents, raised in Windsor and now live in east London. I received a Bachelor of Arts in Illustration in 1997 and today, I'm best known for my large-scale portrait paintings in the street. My work draws inspiration from '80s British underground comics such as 2000 AD, considered lighting of old masters such as Caravaggio and the energy and scale of '70s New York subway graffiti. My mission is to present an alternative black British narrative. I have been making art in the streets for the past three decades. I am fortunate to have been able to paint in Africa, Asia, the UAE, Central and South America and throughout Europe.
Q: Where can people find out more about what you do?
A: The back story, which is an integral part of what I do, always accompanies the paintings. You can read more about my subjects on my website, dreph.co.uk, or on social media: Instagram @Dreph_, Facebook @Neequaye Dreph Dsane and Twitter @Dreph.
Q: Will these pieces be around forever?
A: No, my paintings rarely stay up more than four months. I am always on the lookout for large, high-profile walls, and I often repaint these 'spots' with new work on a regular basis.