Migration is series of murals portraying first generation immigrants who have made the UK their home. The subjects include a market employee, an artist and a Refugee. A total of 10 portraits will be painted on the streets of the UK. After Brexit, and with the national conversation around immigration, I have been inspired to show the human face, and tell the stories of individuals, from the communities that make up the UK's diverse immigrant population.
Thx to Montana Colors for the support.
Michael John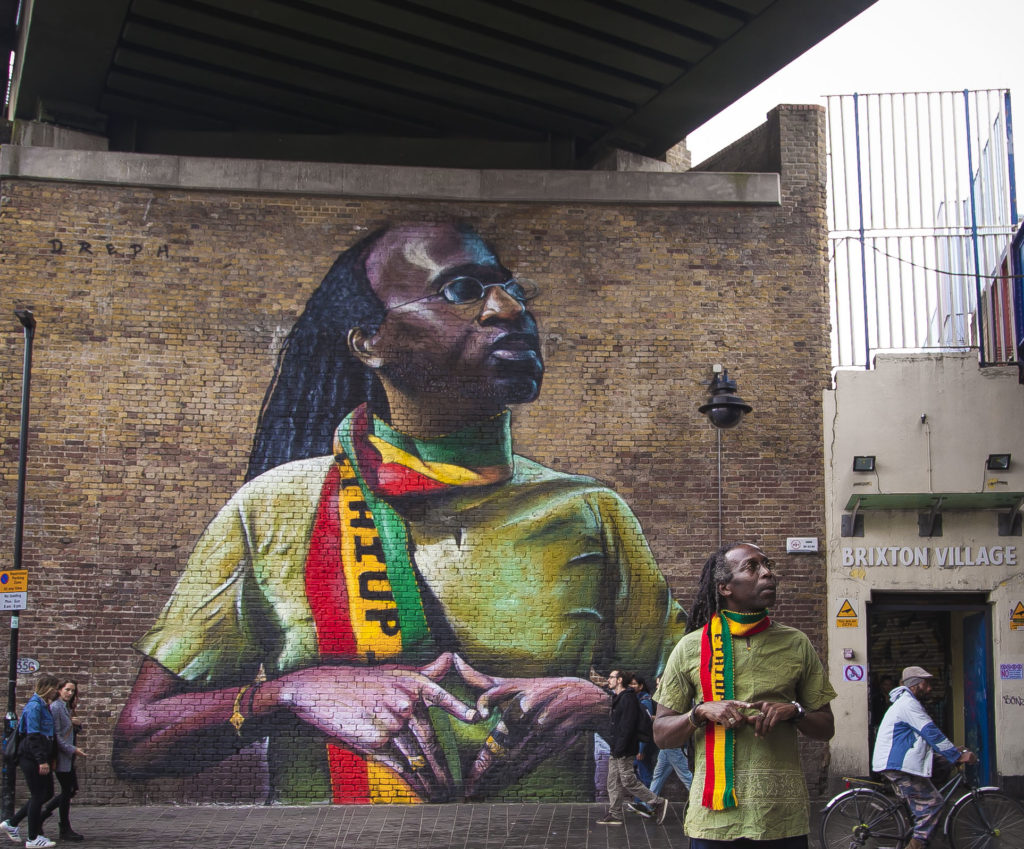 Michael John is a long standing member of the Brixton market community. Originally from Grenada Michael has been working in the community for over 2 decades. Michael arrived in the UK in August of 1986 to join his pregnant partner, and worked tirelessly to ensure economic security for his new family. This was a world away from the small island of Grenada in the south Caribbean, but like so many of the patrons and proprietors Michael has found a true place in the vibrant melting-pot that is Brixton market.
Michael is an integral part of the market community and without him the market wouldn't function. During the reopening ceremony of Electric Avenue in October 2016, he was presented with the 'Keys to Brixton Market' by the council. There has been alot of change in Brixton, as there has been across the capital, in particular with many local residents angry with the gentrification of the area and recent forced evictions of traders in Brixton Arches. Michael's presence and sense of responsibility for the community's wellbeing has been a constant throughout these changes and a reminder of the 'old' Brixton. I wanted to celebrate Michael for his commitment, generous spirit and the numerous other roles he fulfills for the many people he interacts with on a daily basis. .
Thanks to Chillcreate & Brixton Design Trail for making this happen. Big up to soloone.blogspot.co.uk , Ben jay Crossman and Rocketshipdigs for all their support, and the amazing people of Brixton for all the love.
Photo: Sanaabstrakt
Location: Pope's Rd, Brixton, London SW9
Fatima Najm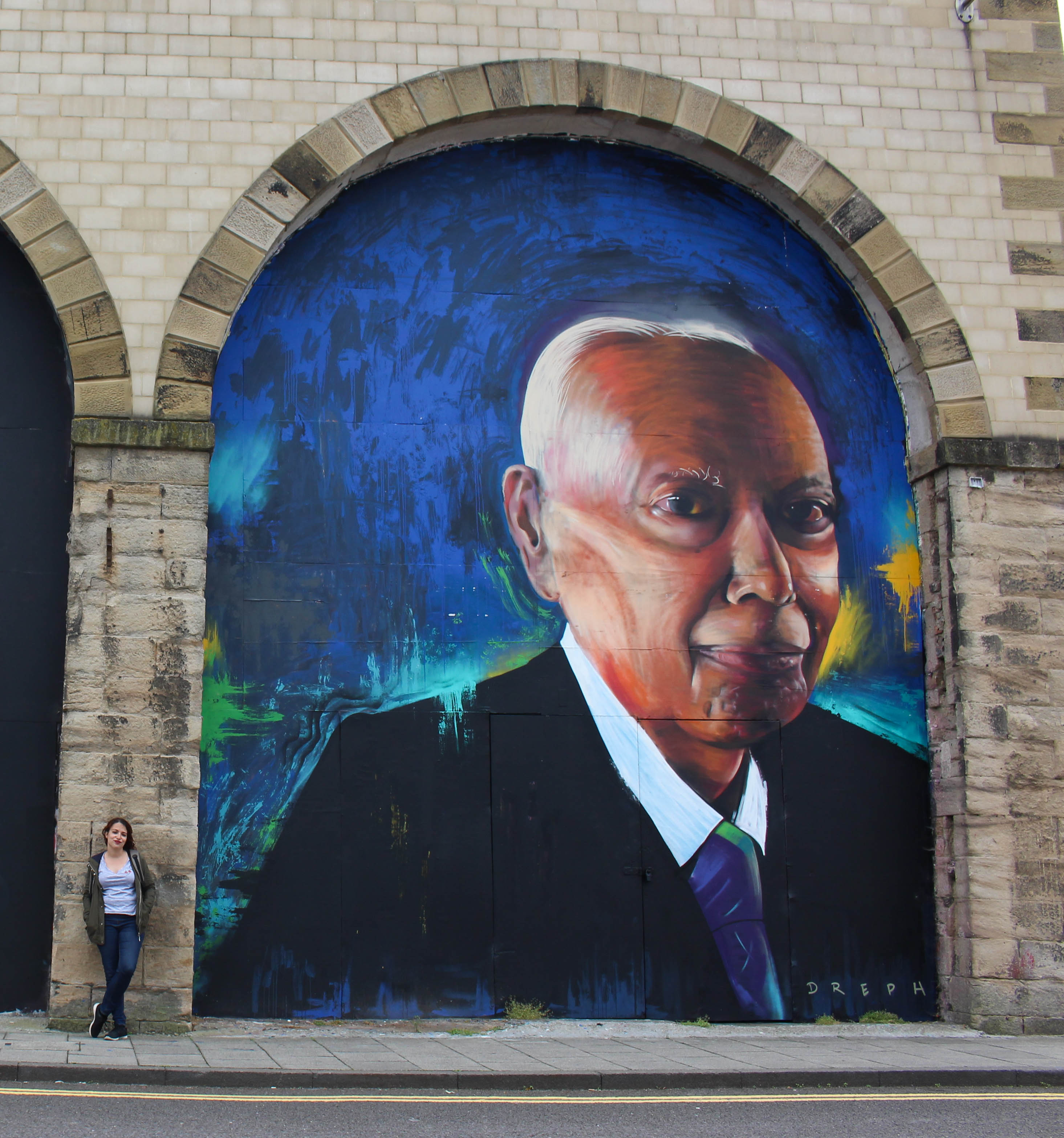 Photo: Guadalupe de la Cruz Ortiz

Newcastle at this time was a city embroiled in tension between the ethnic communities and the police and the council. Dr Shukla recalls the situation as being terrible on his arrival, but that step by step change was brought about. At the root of this change was a three-point plan – to eliminate racial discrimination; promote equality of opportunity and develop good relations between the different groups.Veteran North East equality campaigner Dr Hari Shukla was born in 1933 in Uganda, Kenya, where his father who was originally from Bombay, had moved to work on the railways. He went to school in Kampala, achieved his teacher's certificate in Kenya, and then his Certificate of Education at Exeter University. He later returned to Kenya to teach and was then offered his first job in race relations in Scunthorpe before moving to Newcastle over 40 years ago. In Newcastle he got the job of Director of the Tyne and Wear Racial Equality Council. This was at a time when a multicultural society was regarded by many as a liability rather than as an asset.
Dr Shukla has always taken a keen interest in interfaith relationships and is involved with the coordination of a faith leaders group in Newcastle upon Tyne. He has also been involved with a number of charities, including the NSPCC and St Oswald's Hospice, and held dozens of voluntary roles in organisations. Dr Shukla tells his stories in a recent book called in 'The Art of Giving'. In this book he tells stories about his childhood, his work as a teacher, and his work in Newcastle. Each story with a moral touching on themes about collaboration, learning, tolerance and friendship. Some of those stories are about how he made small contributions to the lives of individuals that had long-lasting and significant impacts – others are about the roles he played in major events and initiatives, the development of race relations in Newcastle, the Peace movement, developing the understanding of organisations such as Northumbria Police, the Prison Service and both Newcastle and Gateshead Councils in how they relate to people of different religions and beliefs. Dr Shukla is a modest and unassuming man, but his commitment, determination and sacrifice for the people, organisations and communities of the North East is truly remarkable.
Location: The Sage Gateshead, St Mary's Square, Gateshead Quays, Gateshead NE8 2JR 
Hassan Hajjaj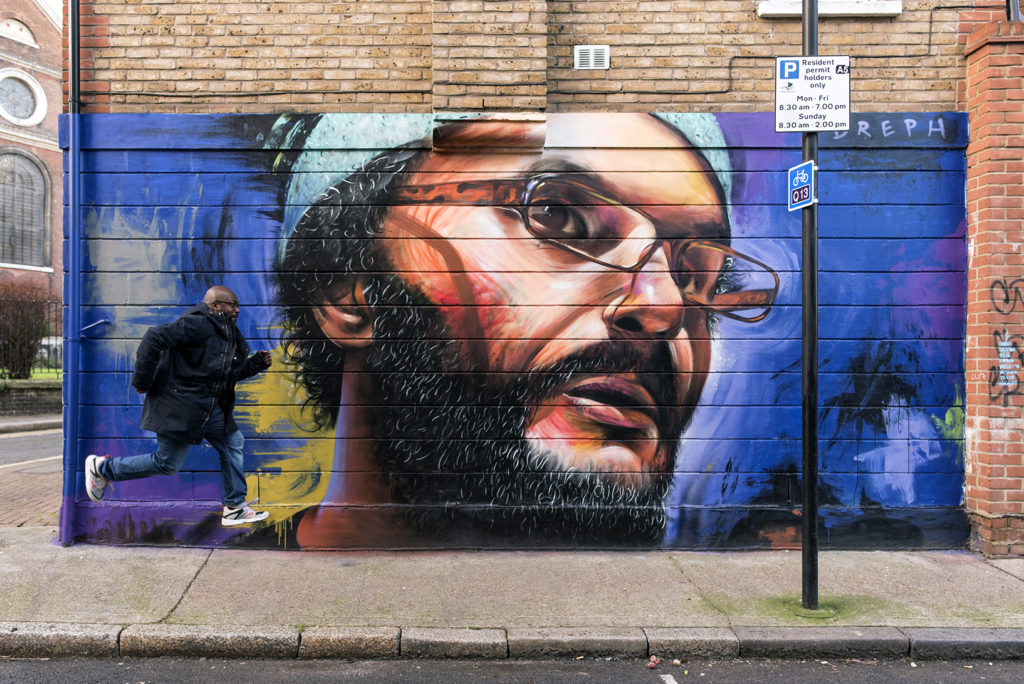 Hassan Hajjaj is often referred to as the "Andy Warhol of Marrakech", He is best known for his colorful photographic portraits. His celebrated works, a vibrant fusion of tradition and pop-culture, have been exhibited at the V&A, British Museum and Somerset House.
Hassan was born in 1961 in Larache, a harbor town in northern Morocco. His father emigrated to England in the 60s, so he spent his formative years with his mother, auntie, grandma and sisters. He moved to North London in 1973 aged 12 to join his father. He recalls it as being a tough time, where he was unable to speak English and was immersed in a new culture, in a time where London wasn't as cosmopolitan as it in today.
As Hassan joined the burgeoning west London immigrant community he felt very much a foreigner and many of the people he befriended were people who had had a similar journey and shared experiences of being the outsider. In this period he made a lot of friends, many from the Caribbean, India and Pakistan, and says that they stuck together and looked after one another. He went on to run a streetwear brand called R.A.P, club nights and worked as a fashion stylist.
Hassan is self-taught with his work drawing from a mix of influences including London's hip-hop and reggae scenes and his North African heritage. His interdisciplinary practice includes photography, installation, performance, fashion, filmmaking, sculpture, music, handcrafted objects and furniture. He often uses utilitarian objects from Morocco such as paint pots made into stools and cans turned into lamps. These days Hassan is based in London half the year, where he runs his shop Larache in Shoreditch, and spends the rest of his time in Marrakech.  His work is undoubtedly a result of this clash of cultures. Larache is an Aladdin's cave, where I am always welcomed with tea and conversations with new faces. I love that he hires local tailors and artisans to manufacture his work. If he is able to help open some doors for them and the younger generation of creatives, he is happy to, understanding that the exchange is of mutual benefit to all.
Photo: Daphna Stern
Location: Shoreditch
Maya Ghazal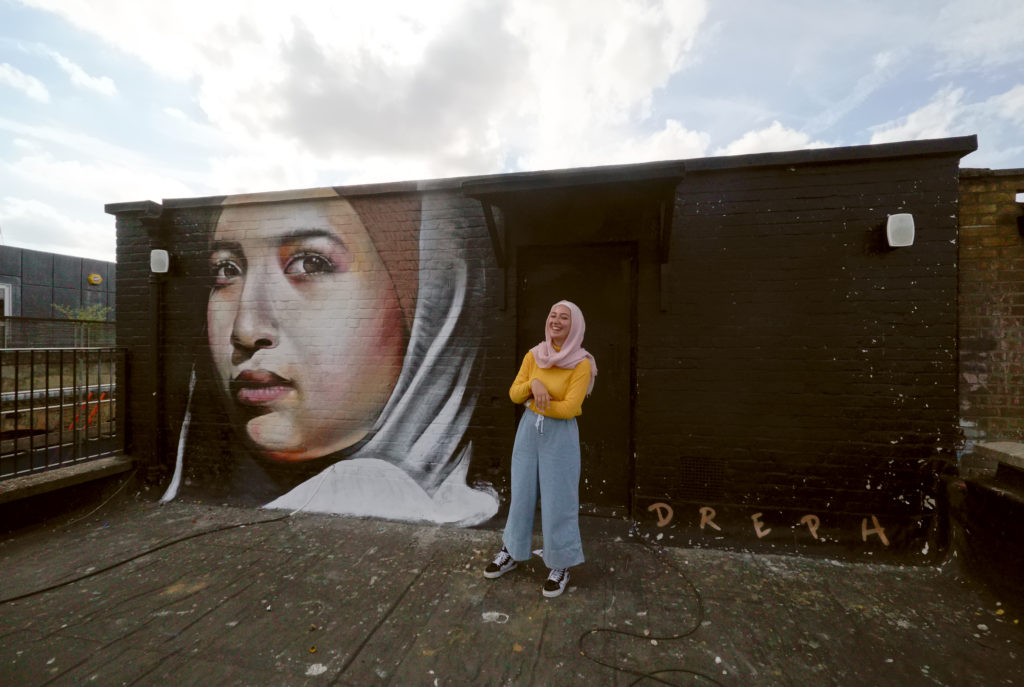 Portrait of 19 yr old  advocate for refugees Maya Ghazal. Maya's family were forced to leave their family home in Damascus in 2014. Her father made the decision to embark on the dangerous journey alone, with no idea of his final destination. He eventually found himself in the UK and 15 months later in 2015, Maya, then 16 and her mother and brothers, were reunited via the Family Reunion Visa.
Her family lived in Birmingham for two years on their arrival. She struggled to speak English and was rejected by 3 schools and a college who didn't recognise her Syrian GCSE's. Due to not being in education for several months she experienced Isolation, loneliness and homesickness. She turned to the Children's Society 'MyPlace' service where young refugees and migrants meet weekly to cook together, have fun and get help from legal and translation services. She was given the chance to give a speech at an Eid event there. Only just starting to get a grasp of the language, she wanted to embrace the opportunity to speak up about her situation and to interact with others. After her speech, a member from TCS staff invited her to help them to help other young people. Doors were finally starting to open for her..a huge confidence boost.
She is now a prominent speaker for United Nations High Commissioner for Refugees refugee family visa reunion rights campaign, a UNHCR supporter, ambassador for The Childrens Society , recipient of The Diana Award, and recently Asian Womans Award UK as a Young Achiever. She was a guest speaker at the premiere of Ai Wei Wei's 'Human Flow' documentary and is featured in Paloma Faith's 'Warrior' video. She is currently studying Aviation Engineering at Brunel University with the view be becoming a pilot.
Photo: Yazzy B M
Location : Jealous Gallery, 53 Curtain Rd, London EC2A 3PT
Yusera Warsama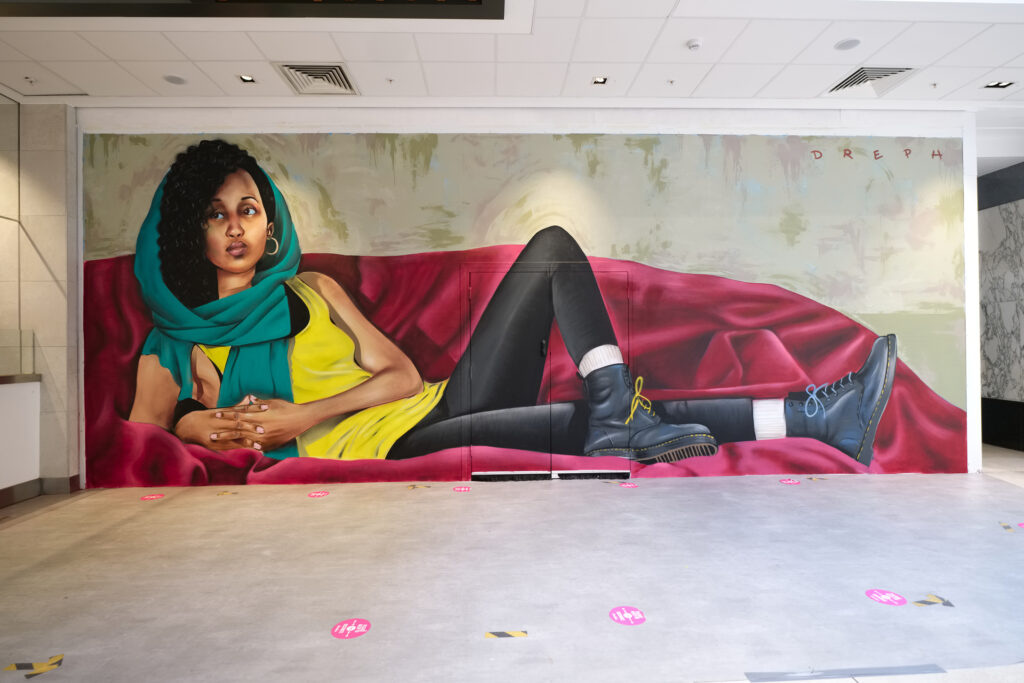 The sixth subject of my on going Migration series is the acclaimed British Somali Actress, Director- theatre maker and writer Yusra Warsama . Raised in Manchester and born in the middle East, Yusra began her career at The Contact Theatre whilst also studying Criminology and Sociology. This is where we met when I first moved to the city in 2004.
Since then Yusra, has gone on to act in theatre, TV and radio and collaborated on Don Letts' Speakers' Corner, a spoken word theatre piece. She has directed and written theatre pieces focusing on how an individual can influence the world and visa versa such as her F.G.Lorca influenced play '6 Souls' and 'Still I Rise'- which she wrote and directed with female visual artists at Manchester Art Gallery. Yusra's film work includes The Last Days on Mars, My Brother the Devil, and Stolen. She appeared in Sky 1 drama CRITICAL, and played the role of Dr. Nadia Omar in season 2 of Castle Rock.
Location: Manchester Arndale,
Manchester,
M4 1AZ

This painting is part of @wildinart #50windowsofcreativity public art trail. Thanks to Ben Reed