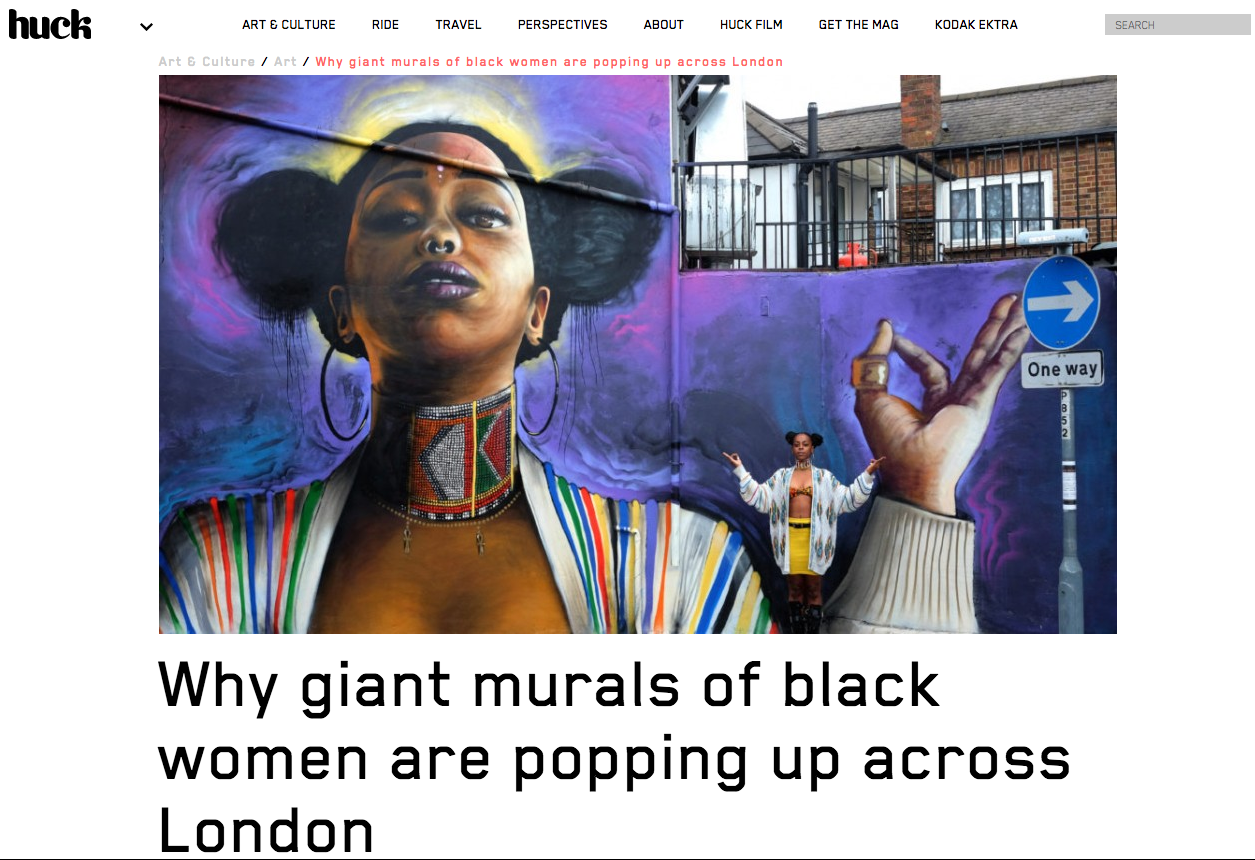 Appearing across the walls of the capital, Dreph's portraits celebrate the humanity, beauty and strength of black British women.
You may already be familiar with the work of Neequaye 'Dreph' Dsane. The British Ghanaian street artist has been painting bright, colourful murals across the world's walls for several years now – with his work appearing in Asia, Africa, the UAE, America and all throughout Europe. Vast and vibrant, they often pay tribute to the "living unsung heroes and heroines" of the global black community.

For his latest project, You Are Enough, Dreph has returned home to the streets of London – and this time, the focus is on the black British women. Sprawled across the walls of the capital, these giant, colourful creations celebrate "friends who are doing amazing things for their communities and society at large." This includes charity workers (Linett Kamala), psychotherapists (Leyla Hussein), and survivors of sexual assault (Holly Diana May Oluwo). "This project is primarily about empowerment, particularly female empowerment and presenting an alternative narrative," Dreph explains. "If in some small way some members of the general public feel inspired, enlightened, challenged, angered, or threatened… what more can an artist ask for?" We caught up with him to find out more.

How did you start painting?
I started painting in 1985 after first reading the book Subway Art, which documented the work of graffiti writers who illegally painted New York City subway trains. I was active on the graffiti scene for over three decades. A couple of years ago I started to make oil paintings, focusing on portraiture. In the last year, I have fused these two approaches to arrive at where I am today.

Why do you think street art is so powerful? What drew you to it as a creative outlet?
Street art cuts out the middlemen. All I need is my spray paint, ladder, and access to a wall that I can spend time painting, and I can deliver my ideas directly to my audience. Coupled with my social media activity, this level of autonomy is incredibly empowering. Street art is a natural progression of all of my previous work and is an effective vehicle with which I can say the things I want to say.

What is it specifically about black British women that you want to celebrate?
I want to celebrate their humanity, their resolve, their intelligence, their loyalty, their beauty, and their strength. Nobody can tell your story better than you can, and this is the story that I have chosen to tell at this particular time.

How has your race affected your experiences as an artist?
I strive to stay aware of what is happening around me yet approach everything in life with a can do mentality.

What has the reaction from the women you've painted been to the You Are Enough project?
All of my subjects have shown an incredible amount of trust in me, and the project. They have all disclosed information that was often not in the public domain and I appreciate how vulnerable it feels being presented in this bold and very public way. I have so much love for them all for that, and they are all blown away by the love and visibility their portraits and stories are receiving.

What do you hope people take away from your work?
I would hope for my audience to be inspired to start, or continue fighting to be their authentic self. I would like black women to be reminded that they are loved, valued and appreciated. In the words of Caroline Caldwell: "In a society that profits from your self-doubt, liking yourself is a rebellious act."

What do you love about London? 
I have travelled all over the world and London's cultural diversity, energy and creativity are just a few things that make the vast city so special.

You Are Enough can be seen on various streets around London, with full details on Dreph's website.
http://dreph.co.uk/wp-content/uploads/2017/08/Screen-Shot-2017-08-30-at-09.23.00.png
860
1255
Dreph
http://dreph.co.uk/wp-content/uploads/2021/03/logo.jpg
Dreph
2017-08-30 08:28:42
2017-08-30 08:42:39
Huck Magazine