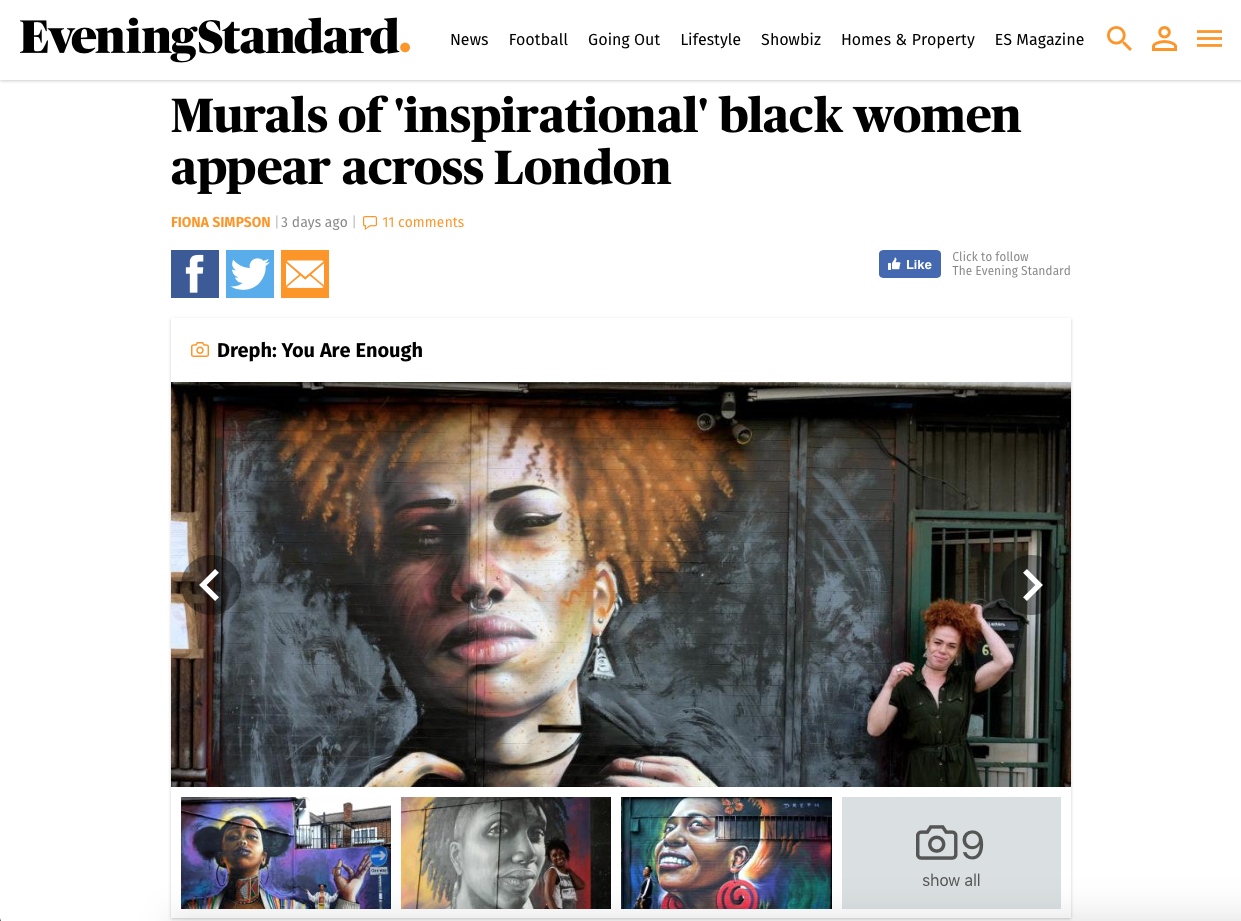 A former north London secondary school teacher has painted amazing images of "inspirational" black women across the capital in a bid to highlight the importance of female empowerment.
Dreph, whose real name is Neequaye Dsane, has adorned parts of east and south London with paintings of nine "ordinary women who do extraordinary things".
The murals, all part of a project entitled You Are Enough, began popping up in January just weeks after the 43-year-old returned from his native Ghana.
He told the Standard that his trip reminded him of the importance of his heritage and highlighted the "inspirational" women in his life including his partner, friends and the mother of his nine-year-old son.
Dreph said: "The subjects are friends or family, an homage to extraordinary black women impacting lives in the community.
"The series celebrates black women and each portrait is a depiction of the subjects' resolve, humanity, loyalty, Intelligence, beauty, and strength.
"I am utilising street art and social media to acknowledge and shine a light on the inspiring women in my life, who are not given the visibility they deserve."
The first image in the series appeared in Star Yard, off Brick Lane in east London and was later replaced by the sixth image in the project.
Fashion and furniture designer Nana Yaa Sakyibea, known as Mary, was Dreph's muse for the first image.
He said of his subject: "She wants people to feel at home in her clothes and thrives on seeing people's self-esteem shoot from 10 to 100, based on what they are wearing."
The artist describes another subject Holly, a survivor of domestic violence, as "warm spirited" with "wisdom more than her 24 years" and hails Tracy, the mother of his son, for her work with girls who have suffered sexual abuse.
Dreph, who quit a career in teaching last year to "follow his dream", worked in education across the capital for 20 years.
He added that all of the women in the series have "made a difference" – a message he attempted to pass on to secondary school art pupils.
The painter said: "When I was teaching I would ask them, "what do you want to be?" and it really struck me when the answer was "famous".
"We live in a culture where people are famous for being famous not for doing something, not for changing anything."
​Dreph's tenth mural was completed on Sunday and will depict friend Shaney who he met while travelling in Morocco.
The artist said: "Having spent the majority of her career as a Legal Secretary in a Magic Circle Law firm, although comfortable she was not content.
"She felt as though she was going through the motions and says that 'at some point we all have to work out what makes us happy'. So she followed her instincts, ignored the naysayers and after months of meticulous planning and rigorous saving, she finally quit her job to travel the world.
"I admire her outlook and courage for walking away from many of life's luxuries and breaking societal norms."
Shaney's painting can be seen in Hanbury Street, Shoreditch.
http://dreph.co.uk/wp-content/uploads/2017/08/Screen-Shot-2017-08-30-at-10.03.56.png
921
1241
Dreph
http://dreph.co.uk/wp-content/uploads/2021/03/logo.jpg
Dreph
2017-08-30 09:08:18
2017-08-30 09:08:18
Evening Standard