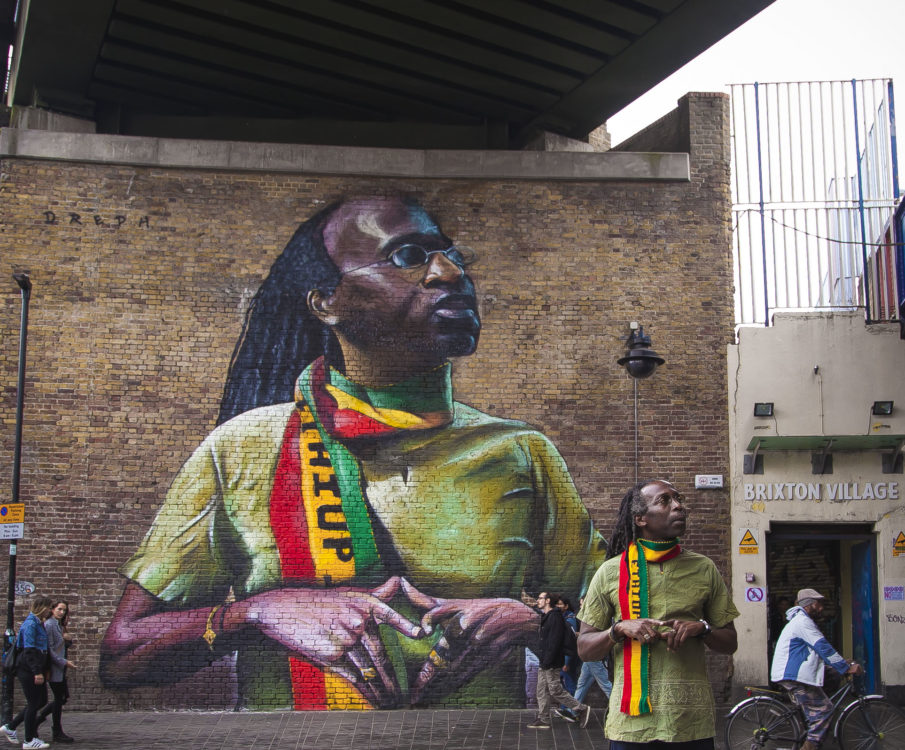 Brixton, London SW9
October 2017
Dimensions: 20ft x 17ft
Originally from Grenada Michael has been working in the community for over 2 decades. Michael arrived in the UK in August of 1986 to join his pregnant partner, and worked tirelessly to ensure economic security for his new family. This was a world away from the small island of Grenada in the south Caribbean, but like so many of the patrons and proprietors Michael has found a true place in the vibrant melting-pot that is Brixton market.
Michael is an integral part of the market community and without him the market wouldn't function. During the reopening ceremony of Electric Avenue in October 2016, he was presented with the 'Keys to Brixton Market' by the council. There has been a lot of change in Brixton, as there has been across the capital, in particular with many local residents angry with the gentrification of the area and recent forced evictions of traders in Brixton Arches. Michael's presence and sense of responsibility for the community's wellbeing has been a constant throughout these changes and a reminder of the 'old' Brixton. I wanted to celebrate Michael for his commitment, generous spirit and the numerous other roles he fulfils for the many people he interacts with on a daily basis.
Thanks to Caroline Hill and Brixton Design Trail for making this happen. Big up to Solo One, Ben Jay Crossman and Rocket ship digs for all their support, and the amazing people of Brixton for all the love.
Photo : Sanaa Abstrakt
Watch the work in progress video HERE
http://dreph.co.uk/wp-content/uploads/2018/01/Ras-Dreph_24-e1537260810465.jpg
750
905
Dreph
http://dreph.co.uk/wp-content/uploads/2021/03/logo.jpg
Dreph
2018-07-11 09:52:01
2018-07-11 09:52:01
Michael John