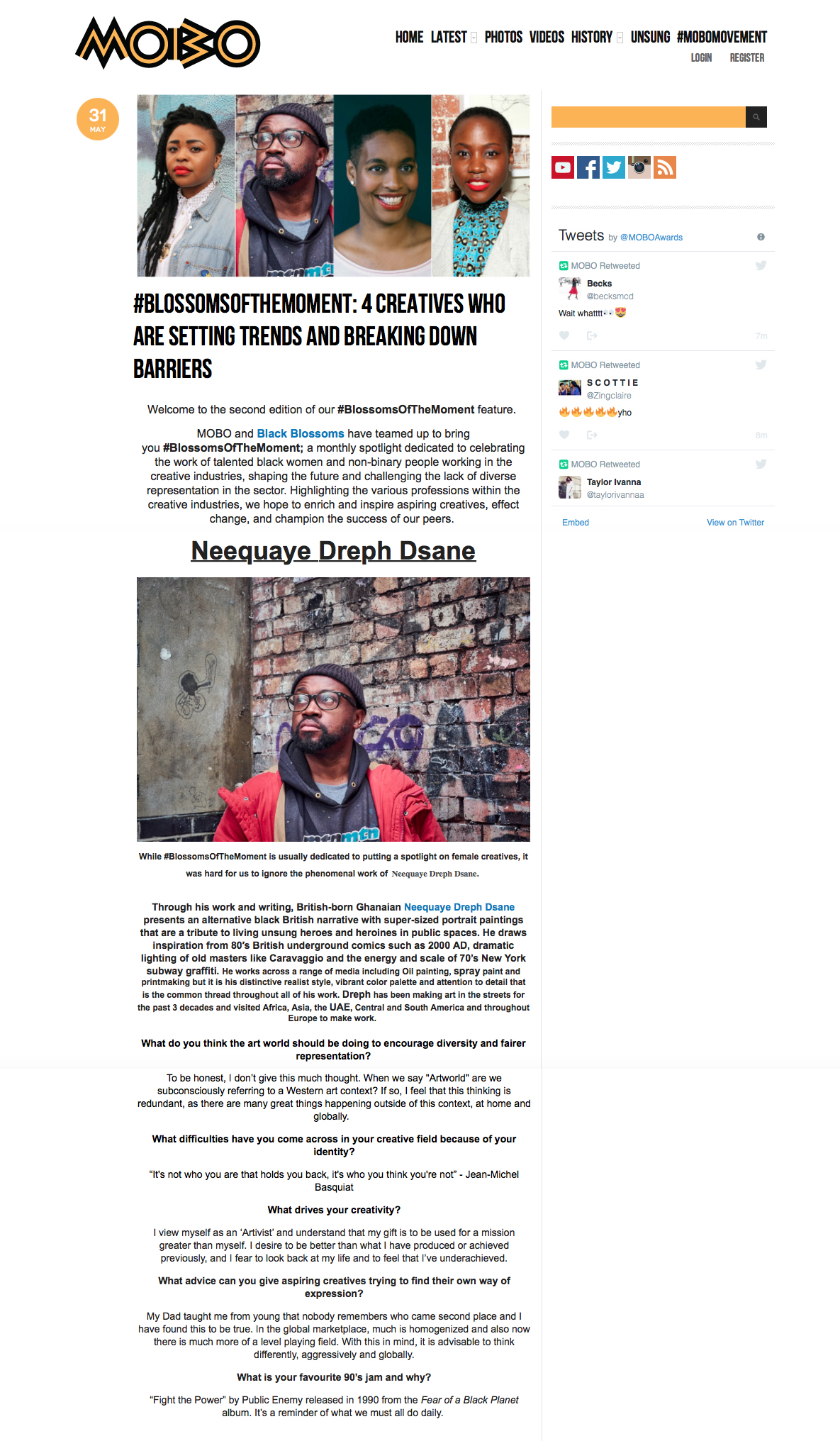 While #BlossomsOfTheMoment is usually dedicated to putting a spotlight on female creatives, it was hard for us to ignore the phenomenal work of Neequaye Dreph Dsane.
Through his work and writing, British-born Ghanaian Neequaye Dreph Dsane presents an alternative black British narrative with super-sized portrait paintings that are a tribute to living unsung heroes and heroines in public spaces. He draws inspiration from 80′s British underground comics such as 2000 AD, dramatic lighting of old masters like Caravaggio and the energy and scale of 70's New York subway graffiti. He works across a range of media including Oil painting, spray paint and printmaking but it is his distinctive realist style, vibrant color palette and attention to detail that is the common thread throughout all of his work. Dreph has been making art in the streets for the past 3 decades and visited Africa, Asia, the UAE, Central and South America and throughout Europe to make work.
What do you think the art world should be doing to encourage diversity and fairer representation?
To be honest, I don't give this much thought. When we say "Artworld" are we subconsciously referring to a Western art context? If so, I feel that this thinking is redundant, as there are many great things happening outside of this context, at home and globally.
What difficulties have you come across in your creative field because of your identity?
"It's not who you are that holds you back, it's who you think you're not" – Jean-Michel Basquiat
What drives your creativity?
I view myself as an 'Artivist' and understand that my gift is to be used for a mission greater than myself. I desire to be better than what I have produced or achieved previously, and I fear to look back at my life and to feel that I've underachieved.
What advice can you give aspiring creatives trying to find their own way of expression?
My Dad taught me from young that nobody remembers who came second place and I have found this to be true. In the global marketplace, much is homogenized and also now there is much more of a level playing field. With this in mind, it is advisable to think differently, aggressively and globally.
What is your favourite 90's jam and why?
"Fight the Power" by Public Enemy released in 1990 from the Fear of a Black Planet album. It's a reminder of what we must all do daily.
http://dreph.co.uk/wp-content/uploads/2017/06/black-blossoms.jpg
2032
1185
Dreph
http://dreph.co.uk/wp-content/uploads/2021/03/logo.jpg
Dreph
2017-06-17 13:12:54
2017-06-20 07:39:28
MOBO