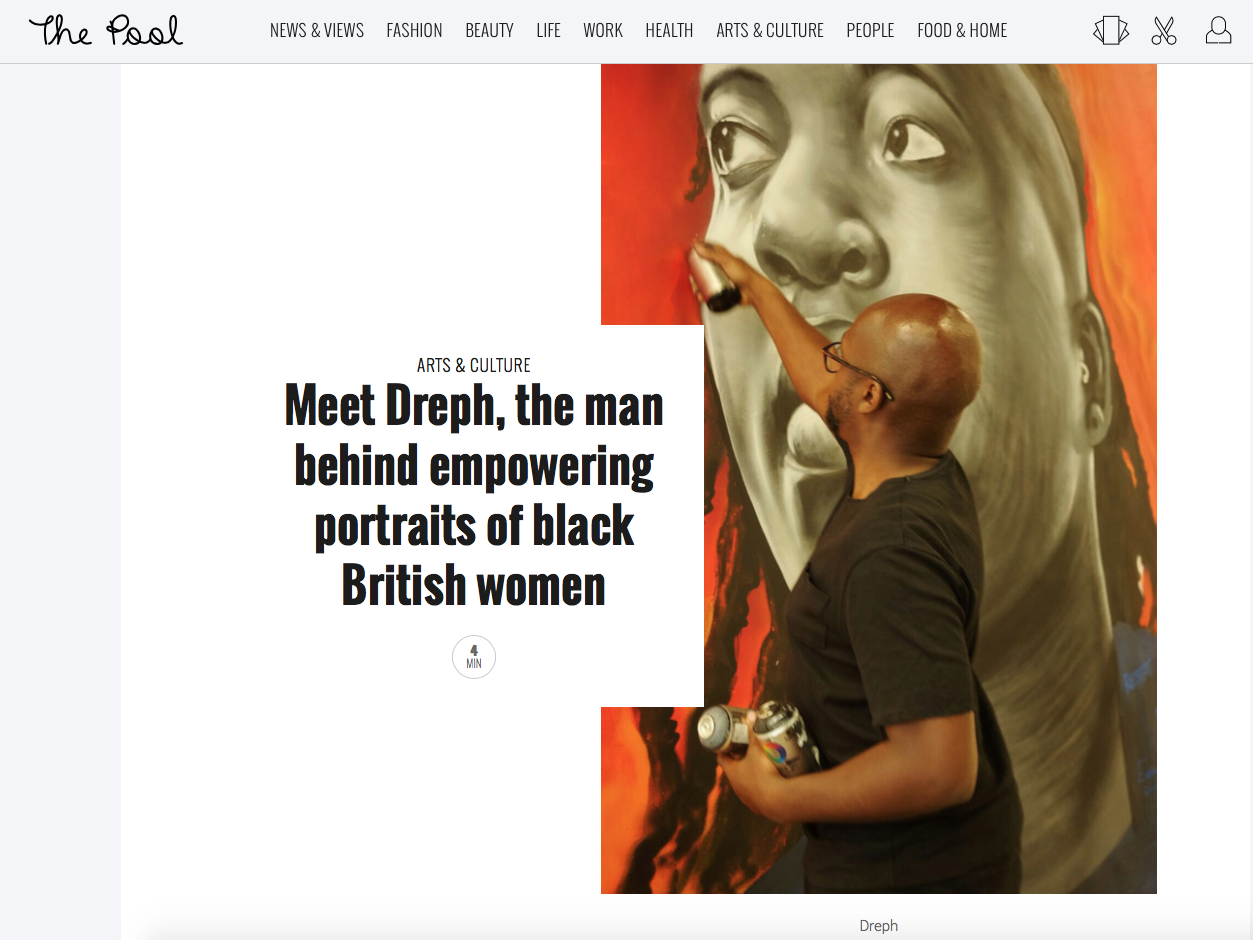 Kat Lister talks to Neequaye Dreph Dsane, a street artist committed to making brilliant women visible
"This lady over here is 23 years old," says visual street-based artist Neequaye Dreph Dsane, introducing me to his three-metre-high canvas. "I'm a 43-year-old man," he adds, pointing at his chest. For a split second, the British Ghanaian glances at his unfinished painting, propped up against a whitewashed gallery wall, in awe. "These are the people who are going to be taking over," he gestures emphatically. "They're the ones who are going to be carrying on the fight."
It's 10am on a Sunday morning and, in a large, empty studio – deep in the bowels of the Tate Modern – Dreph and I are staring at his latest artwork. A young woman's face is swathed in a sunset-red blaze. Both eyes are fixed away from us – and our gaze follows hers, skyward. The lady in question is MC Melissa "Melz" Owusu, grime artist, activist and academic. Earlier this year, Owusu led a TEDx Talk at the University of Leeds titled "Decolonising the Curriculum". Later this autumn, she'll begin her PhD, exploring how a history of shared colonial oppression can affect black British mental health.
As soon as Dreph met Owusu, he knew he wanted to paint her. "Activism in the black community isn't really visible, especially if you're female," he tells me. For the next three days, this invisibility will be challenged and explored. When the Tate asked Dreph if he'd like to help them engage with 15- to 25-year-olds (inspired by their latest exhibition, Soul Of A Nation: Art In The Age Of Black Power), he suggested a residency that celebrates contemporary female activism. It's not the first time Dreph has taken inspiration from the women who surround him. This year, his work has been entirely defined by them.
When Dreph returned from a trip to Ghana in January this year, he decided to embark on a street-art project that pays tribute to the black British women he knows; women who are, in his own words, ordinary people doing extraordinary things. You Are Enough, Dreph tells me, is a celebration of women who aren't being celebrated. A lack of visibility is a key reason why he's chosen to honour their achievements in public spaces. If you live in London, you may have already stumbled across one of Dreph's nine portraits already. The artist's giant murals are scattered across the length and breadth of the capital – on the exposed brick wall of a Brixton gym, or down a narrow street in bustling Soho. Studios are a rare artistic base for Dreph, who still considers himself a graffiti artist at heart. You're more likely to find him up a ladder on Shoreditch High Street, painting a slatted garage shutter, than at a wine-quaffing private view in west London. The more impossible the location is, he says (with a twinkle in his eye), the more determined he is to tag it.
When you talk about 'empowerment', there's another word in there. People with power don't want to relinquish it – and they do that by subjugating women
"The subjects are women, but it's a universal conversation," Dreph says. Is there a singular theme, other than invisibility, that links them all together? "Triumph over adversity," he replies. These women all have stories to tell. Leyla Hussein, a leading global FGM campaigner, can be found – fixing a powerful gaze in her vibrant orange headscarf and beads – at 155 Wardour Street in Soho; and Holly, a survivor of sexual abuse and domestic violence, faces her demons with defiant strength at 65 Commercial Street in Shoreditch. "I'm aware of the responsibility to represent them in a positive way," he says. Dreph wants every woman to look powerful and radiant – that's the point, he underlines. When he picks up a tube of acrylic, he's painting what he calls their "essence" – what he's learnt about their lives while he's been sketching them.
Inspired by 1980s British comics (such as 2000 AD), the 17th-century Italian master Caravaggio and 1970s New York subway graffiti, You Are Enough reflects Dreph's multifarious influences. It also embodies a complex range of social, systemic and cultural themes, from Western ideals of beauty to body-shaming and inclusivity. As we discuss these issues, I can't help but mention a recent Channel 4 News report about his recent work – and the infuriating comments it generated on their Facebook page. The shared ignorance stunned me as I scrolled through the outrage: "Draw all skin colours, separately or all together, but just being fan of one race makes you racist," one angry viewer posted. The reverse-racism card had been duly flashed. Surely baffling comments like this only enforce why You Are Enough is needed, I ask.
"The negative comments you're talking about – I expect that," Dreph replies before nailing the backlash. "It's about power," he says. "When you talk about 'empowerment', there's another word in there. People with power don't want to relinquish it – and they do that by subjugating women, subjugating people of colour, subjugating young people."
We both glance at his towering canvas, alive with igneous colour. "I'm aware of that," he nods. "And my work is going to challenge it.
http://dreph.co.uk/wp-content/uploads/2017/08/Screen-Shot-2017-08-30-at-09.45.16.png
940
1253
Dreph
http://dreph.co.uk/wp-content/uploads/2021/03/logo.jpg
Dreph
2017-08-30 08:48:26
2017-08-30 08:48:50
The Pool