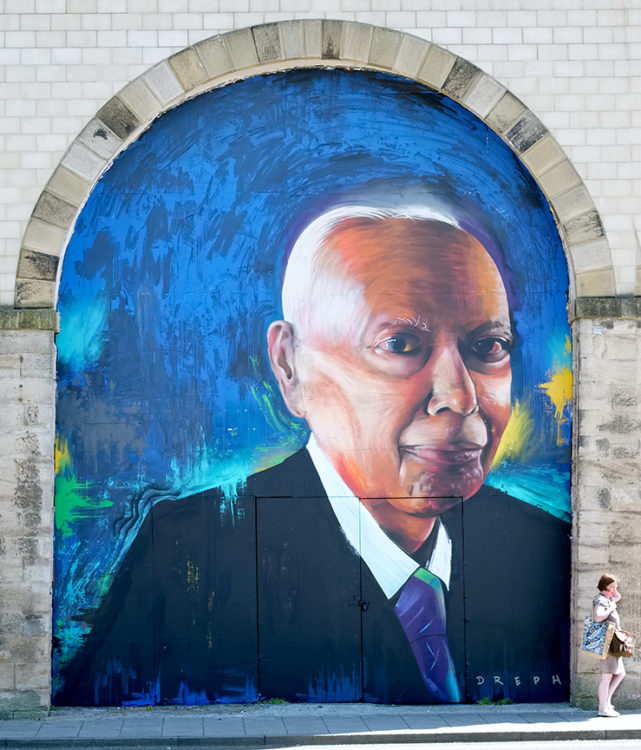 Sage Gateshead,  St Mary's Square, Gateshead Quays, Gateshead NE8 2JR
The 4th Subject from the Migration Series is veteran North East equality campaigner Dr Hari Shukla. Dr Shukla was Born in 1933 in Uganda, Kenya, where his father who was originally from Bombay, had moved to work on the railways. He went to school in Kampala, achieved his teacher's certificate in Kenya, and then his Certificate of Education at Exeter University. He later returned to Kenya to teach and was then offered his first job in race relations in Scunthorpe before moving to Newcastle over 40 years ago. In Newcastle he got the job of Director of the Tyne and Wear Racial Equality Council. This was at a time when a multicultural society was regarded by many as a liability rather than as an asset.
Newcastle at this time was a city embroiled in tension between the ethnic communities and the police and the council. Dr Shukla recalls the situation as being terrible on his arrival, but that step by step change was brought about. At the root of this change was a three-point plan – to eliminate racial discrimination; promote equality of opportunity and develop good relations between the different groups.
Dr Shukla has always taken a keen interest in interfaith relationships and is involved with the coordination of a faith leaders group in Newcastle upon Tyne. He has also been involved with a number of charities, including the NSPCC and St Oswald's Hospice, and held dozens of voluntary roles in organisations. Dr Shukla tells his stories in a recent book called in 'The Art of Giving'. In this book he tells stories about his childhood, his work as a teacher, and his work in Newcastle. Each story with a moral touching on themes about collaboration, learning, tolerance and friendship. Some of those stories are about how he made small contributions to the lives of individuals that had long-lasting and significant impacts – others are about the roles he played in major events and initiatives, the development of race relations in Newcastle, the Peace movement, developing the understanding of organisations such as Northumbria Police, the Prison Service and both Newcastle and Gateshead Councils in how they relate to people of different religions and beliefs. Dr Shukla is a modest and unassuming man, but his commitment, determination and sacrifice for the people, organisations and communities of the North East is truly remarkable.
Thanks to #TheSageGateshead & @montana_colours for the support.
http://dreph.co.uk/wp-content/uploads/2018/03/Hari-e1537261137360.jpg
750
641
Dreph
http://dreph.co.uk/wp-content/uploads/2021/03/logo.jpg
Dreph
2018-07-11 09:46:23
2018-07-11 09:46:23
Dr Hari Shukla