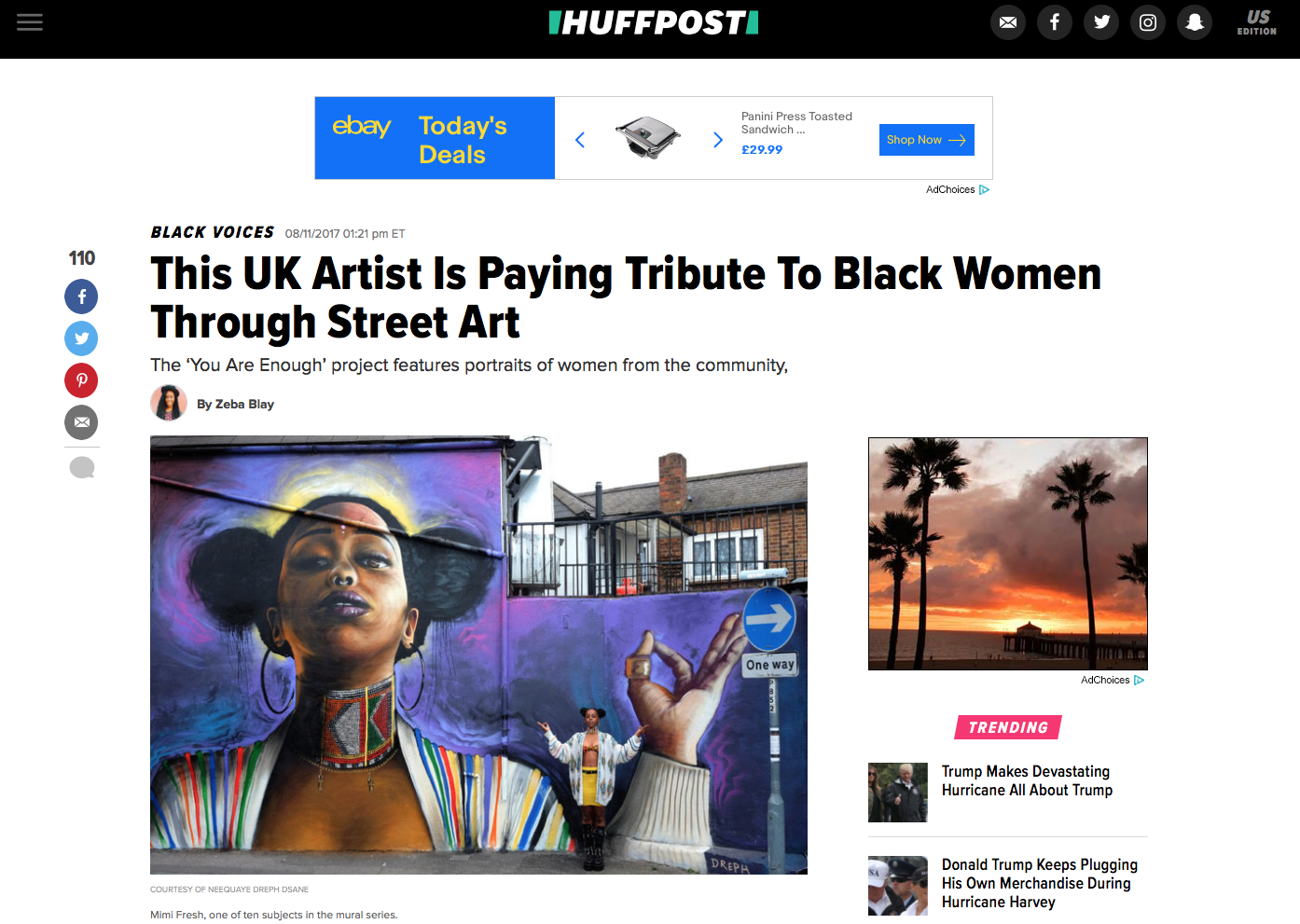 A Ghanaian-British artist is creating striking, larger-than-life portrait murals all over London to celebrate the beauty and strength of black women.
In March, artist Neequaye Dreph Dsane launched the street art project called "You Are Enough," which features portraits of women of African and Caribbean heritage on buildings throughout London ― 10 murals are planned for the project. Nine portraits have been completed so far, which have popped up on all over London in the last several months on buildings in neighborhoods like Croydon, Shoreditch and Brixton, with the artist (who goes by Dreph) sharing poignant stories about each subject on Instagram.
Dreph began painting in 1985, inspired by the graffiti writers and subway art in New York City. An active participant in the graffiti scene, he began creating oil painting portraits two years ago. "In the last year I have fused these two approaches to arrive at where I am now creatively," Dreph told HuffPost on Thursday.
Dreph says the project was inspired by a recent trip to Ghana, that sparked the need to pay tribute to black women.
"Whilst there, the beautiful discussions I had and how I was welcomed particularly by the women who I spent time with, gave me renewed appreciation of the amazing women in my immediate circle in the UK," the artist explained.
"I wanted the portraits to give those women the visibility they deserve and celebrate their humanity, resolve, loyalty, beauty, intelligence and strength. All the subjects in this series are ordinary women doing extraordinary things for their communities and society."
Dreph is pleased by the warm reception to the project, and the conversation its sparked about self-love and self-acceptance. He says a "You Are Enough" online educational resource for schools and universities is currently in the works to continue the conversation.
http://dreph.co.uk/wp-content/uploads/2017/08/Screen-Shot-2017-08-30-at-10.28.58.png
991
1394
Dreph
http://dreph.co.uk/wp-content/uploads/2021/03/logo.jpg
Dreph
2017-08-30 09:34:24
2017-08-30 09:34:24
Huffington Post